Scott's Photographica Collection
Ansco Advertising Thermometer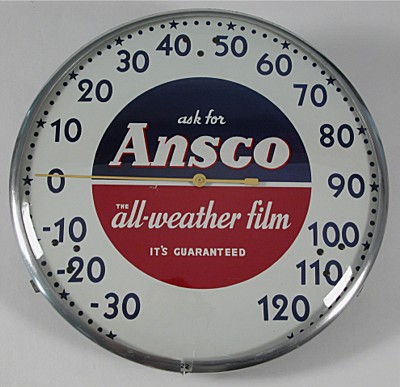 Ansco Advertising Thermometer
This thermometer, advertising Ansco All-Weather film, probably dates to the 1950s. It came from Hoskins Photo Service, a commercial custom black & white photo processing and printing business. Hoskins was said to be the area's best black & white printing service. It served all the major camera stores in the Detroit, Michigan area from 1947 until the early 1990s.
The thermometer is one foot in diameter.
Other Ansco Collectibles
Examples of other Ansco advertising collectibles can be found by following these links:
Links to Ansco cameras on this site:
Various Ansco patents can be found on the Patents page.
| | |
| --- | --- |
| | Page created September 19, 2002; updated December 20, 2020 |