Scott's Photographica Collection
Anthony & Scovill
Ansco No. 7 Camera
Ansco No. 7
This Anthony & Scovill Company Ansco No. 7 is part of a complete outfit, accompanied by an accessory dry plate attachment, plate holder, Vidil rollfilm back, original boxes, instructions and other papers. Ansco Vidil Focusing Film was a most unusual rollfilm. Available for only four years from ca. 1905, it gave viewing screen capability to non-reflex rollfilm cameras. Actually, the viewing screens were built into the rollfilm, not the camera!
The Ansco No. 7 is a horizontal style folding rollfilm camera dating to ca. 1905. This compact, well-made, wood-bodied camera delivered a surprisingly large 4 x 5 inch negative on Ansco No. 10 rollfilm.
The Ansco No. 7 was a versatile camera. Photographs could be taken on standard rollfilm, special "focusing" Vidil rollfilm, or on standard glass plates when fitted with the accessory dry plate attachment.
The Ansco No. 7 and a few similar Ansco models are historically interesting for their ability to accept Ansco Vidil Focusing Film, or Vidil film for short. Vidil film may be the most unusual form of rollfilm ever manufactured. A roll of Vidil film consisted of alternating sheets of film and viewing screens, for a total of 12 each per roll. The viewing screens were made of a translucent parchment-like paper. I am amazed that this elaborate rollfilm design was conceived and marketed.
Cameras capable of loading Vidil film required a special camera back. But the Vidil back did not preclude the use of standard rollfilm. Two sizes of standard Ansco No. 10 rollfilm fit this camera. Size 10A produced 6 exposures per roll and size 10B, 10 exposures.
Reading the camera's manual, I was fascinated to learn that it was possible, in a darkroom, to remove exposed sheets of Vidil film for processing and then continue to use the remainder of the roll in the camera.
Early rollfilm cameras were typically outfitted with small reflex viewfinders. Because the roll of film was stretched across the film plane, ground glass viewing was not considered possible. However, a small number of inventive solutions did reach the market, and the Ansco Vidil film system was one. Vidil film cannot be considered a commercial success. Introduced by Anthony & Scovill in March, 1905, only a small number of Anthony & Scovill camera models were Vidil film capable. Anthony & Scovill Vidil film was withdrawn from the market within four years of its debut.
I had assumed that Vidil film was sold only by Anthony & Scovill Company, solely for use in their cameras. However, since writing this page, I had the good fortune to read the article Vidil Film: A Mystery Solved by Eaton S. Lothrop, Jr. This article was published in the Summer 1998 issue of Photographica World, the journal of the Photographic Collectors Club of Great Britain. Mr. Lothrop's research identified ten European companies that sold and possibly manufactured Vidil film. In addition, advertising located by Mr. Lothrop indicates two firms other than Anthony & Scovill marketed Vidil capable cameras or attachments. I've since learned that the German camera manufacturer Dr. Lüttke & Arndt made a Vidil roll film camera. I don't have that camera in my collection, however I have their Linos, a beautiful walnut folding bed plate camera with accessory roll film back.
Vidil film was an ingenious but commercially unsuccessful attempt at giving non-reflex rollfilm cameras the advantages of full-image ground glass viewing.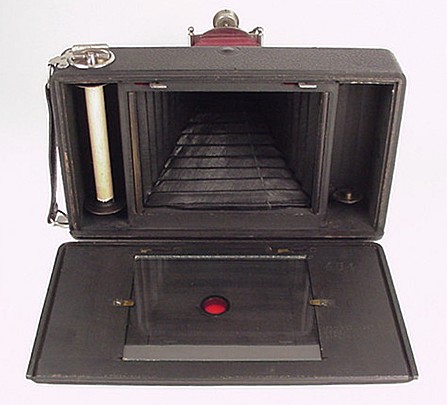 Ansco No. 7 Removable Back
The back of the Ansco No. 7 is fully removable for access to the film chamber. The view above shows the special Vidil rollfilm back removed from the camera. The camera's serial number, 454, is stamped into the interior of the Vidil back.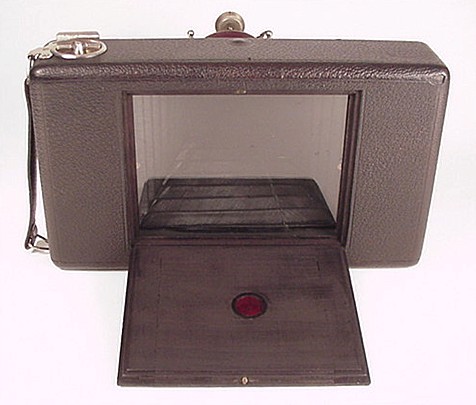 Ansco No. 7 Vidil Back
In this view of the Vidil back, the cover door is shown open. Notice the clear glass plate. The glass plate sealed the camera and acted as a pressure-plate, holding the film flat against the film rollers. The back door was to be opened only after the parchment paper was advanced into position behind the glass plate. Then the camera shutter could be opened to allow light from the subject to cast an image on the parchment. Composition and focus were judged by viewing this projected image. Next, the shutter was closed, the back door was closed, and the film wind-knob rotated until the next exposure number printed on the film's paper backing appeared in the red window. The camera was then ready to make an exposure.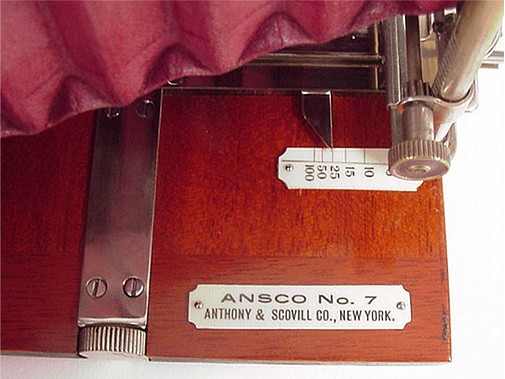 Maker's Plaque and Distance Scale
Materials, construction and design of the Ansco No. 7 were first-rate. I think the camera has very clean lines, and is a pleasure to handle. Perhaps this is due to the vast experience of its maker, Anthony & Scovill, formerly E. & H. T. Anthony, America's oldest photographic goods manufacturer.
The camera body is constructed of mahogany; metal parts are brass and nickel plated brass; the covering is a good quality seal grain leather and the bellows is a rich maroon leather. The Ansco No. 7 features lens rise/fall and shift adjustments for image control. Notice the lens rise and fall rack and pinion. In the view above, this can be seen in the upper right corner, at the front of the distance scale. The serrated knob at the side of the baseboard is the focusing knob. As with the lens rise and fall rack and pinion, the focus control rack and pinion operates smoothly. Rack and pinion mechanisms appeared on the better grade cameras in a manufacturer's line.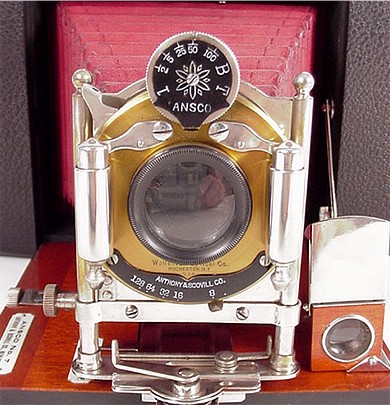 Ansco No. 7 Lens and Shutter
The lens and shutter of this Ansco No. 7 were made by Wollensak Optical Company of Rochester, NY USA. The Wollensak lens has stops of f/8 to f/128 and the pneumatic shutter offers speeds of 1 to 1/100 second, plus time and bulb.
The Ansco No. 7 and its peer models, the Ansco No's. 4, 5, 6, 9 and 10 could also be purchased with Goerz Syntor or Goerz Dagor lenses mounted in Compound or Tenax shutters. These were very expensive options. For example, an Ansco No. 5 priced at 18.50 US dollars, retailed for 73.00 US dollars when fitted with a Goerz Dagor lens in Compound shutter! Dallmeyer Stigmat and Zeiss lenses were also available for this line of cameras.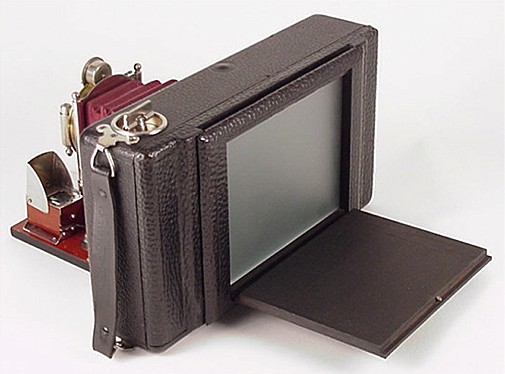 Ansco No. 7 Dry Plate Attachment
Because the camera featured a removable back it was a simple matter for Anthony & Scovill to offer an accessory Dry Plate Attachment to photographers wanting to use glass plates instead of, or in addition to rollfilm. The Dry Plate Attachment was an extra cost accessory. A ground glass screen permits direct composition and focusing of the scene. A hinged wood cover-door protects the ground glass from accidents.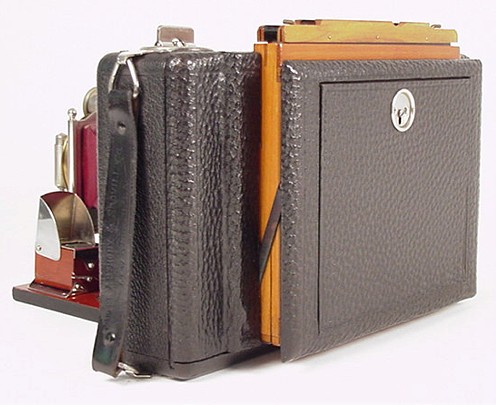 Wood Plate Holder Mounted in Dry Plate Attachment
This is a view of a wood plate holder mounted in the Dry Plate Attachment. This is a double-sided plate holder, capable of holding two glass plates at a time. Because the Ansco No. 7 film format of 4 x 5 inches is still a readily available film size, the camera can be used to this day with 4 x 5 inch sheet film. In fact, that's just what I have in mind.
Additional Information
References
Ansco Company, n.d. Ansco Cameras With Goerz Lenses
Ansco Company, 1914 Ansco Film
William and Estelle Marder, 1982 Anthony the Man the Company the Cameras
The Anthony & Scovill Co., n.d. Instructions For Using The Ansco No. 4 & 5 Camera
Eaton S. Lothrop, Jr, 1998 Vidil Film: A Mystery Solved Summer 1998 issue of Photographica World. Research spanning over 30 years went into this article, the definitive work on Vidil film. The article reveals some fascinating information that is not included in this page.
| | |
| --- | --- |
| | Page created July 16, 2002; updated December 20, 2020 |