Scott's Photographica Collection
M.I.O.M.
Photax V
This incredible looking plastic camera was the creation of Manufacture d'Isolants et d'Objets MoulÚs, abbreviated M.I.O.M., located in Vitry-sur-Seine, France. The company was in the plastics molding business. I believe all of the cameras they produced were of molded bakelite or plastic. The Photax V dates to ca 1956. Of all the models M.I.O.M. created, this is my favorite because of its dramatic lines.
This is a simple dual-format camera for 620 size film, capable of taking 6 x 6 cm or 6 x 9 cm photographs. Shutter speed settings are 1/25, 1/100 second, and bulb. The shutter is synchronized for flash. The lens is a Heanar with two aperture settings - numbered 1 and 2. A large threaded tube holds the lens and shutter. When the camera is not in use, the tube can be turned back into the body making this a compact camera to carry. The simple viewfinder shows the field of view for both film formats. Exposures are counted using the red window system.
For those who enjoy shooting with a Diana-type camera, the Photax V can't be beat for style. And the image quality is definitely Diana-like. This camera can be used with 120 size film, available today. To load 120, fresh film can be wound onto an old 620 spool, or a plastic 120 spool can be cut down to slightly reduce the diameter of its flanges.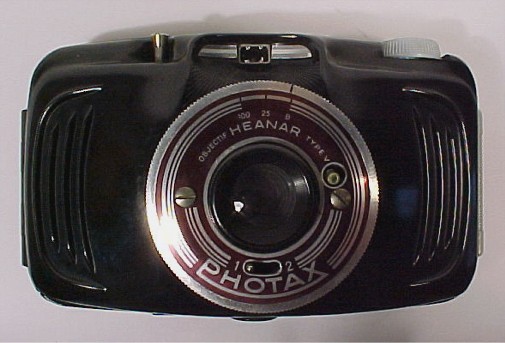 Photax V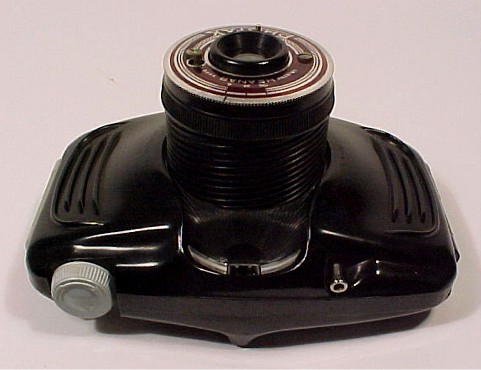 Photax V
| | |
| --- | --- |
| | A navigation frame with links to other pages on this site should appear on the left of this page. If it is not there, click HOME to make it appear. |
This page was updated July 10, 2001