Scott's Photographica Collection
Sakura Seiki Company
Petal Camera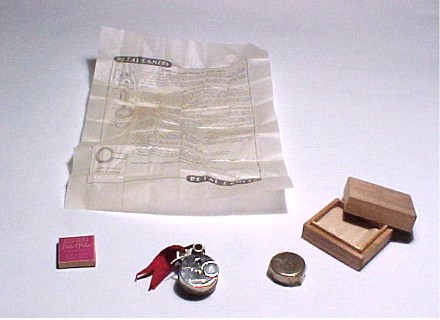 Petal Camera instructions, box, film can, camera, and package of film
The Petal camera is about the size of a silver dollar. It is a very small, cleverly designed, well made and real cute subminiature camera that was manufactured in Japan from the late 1940s to early '50s. Sakura Seiki Company is just one of the firms thought to have been the manufacturer. To date, I believe that no one knows for sure which firm or firms manufactured the Petal cameras.
Front of Round Petal Camera
The dial seen on the front of the camera is used to select instantaneous or bulb exposure. To advance the film, the back is rotated until a number engraved around its circumference aligns with a red colored dot. The cylindrical tube mounted on top of the camera is the eye-level optical viewfinder.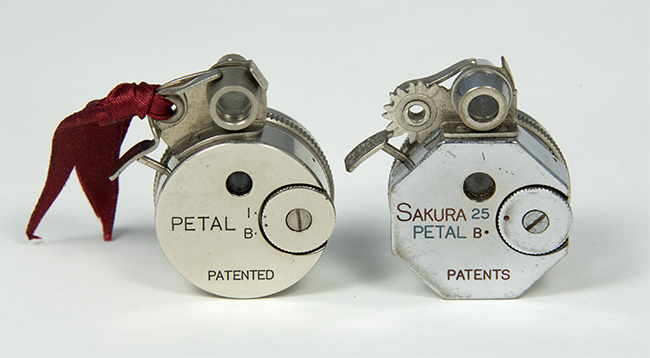 Round and Octagonal Petal Cameras - Front View
The Petal was available in two distinct styles. Although layout and features were almost identical, one Petal has a round body while the other has an octagonal shape. The round Petal was manufactured and sold prior to the introduction of the octagonal Petal.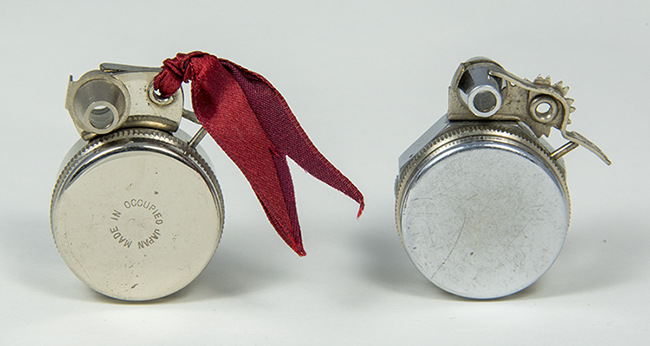 Round and Octagonal Petal Cameras - Back View
A camera identical to the octagonal Petal is engraved with the name Everax A. The Everax A may have been introduced around the same date as the round model, and can be considered to be the forerunner of the octagonal Petal.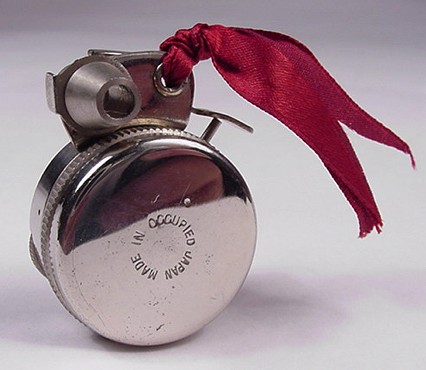 Back of Round Petal Camera
The red ribbon is a great touch. As you can see, Petals were manufactured during Japan's Occupational period. On the top right of the camera notice a curved strip of metal and a straight rod. The curved lever is the shutter release. Film is reloaded by unscrewing and removing the back cover.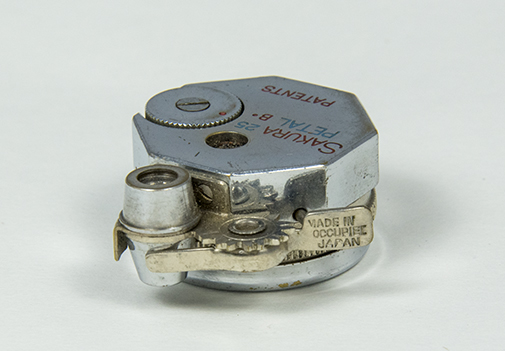 Octagonal Petal MIOJ Engraving
The Octagonal version's Made in Occupied Japan engraving is located on the shutter release lever.
Petal Back Removed
Look inside the back of the Petal at the 11:00 position for a round hole cut into a black plate. The round hole is the Petal's image frame. Petal film was circular as were Petal images. A disc of film was loaded by setting it into the camera back and replacing the cover. Rotating the back aligned the round hole with a fresh section of film. The back could be rotated to six positions yielding six frames per disc of film. The film disc is 25mm in diameter and the image is 6mm in diameter.
This box of Petal film calls itself Patel Film. I don't know why. I have also seen boxes of film marked Petal. My can of Petal film is marked Petal, as would be expected.
Additional Information
• Here is a link to a 1949
advertisement
for the newly introduced Petal camera.
| | |
| --- | --- |
| | Page created August 27, 2001; updated August 5, 2022 |