Scott's Photographica Collection
Chiyoda Kogaku Seiko Company Ltd.
Konan 16 Automat Subminiature Camera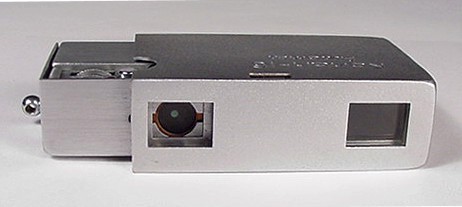 Konan 16 Automat Subminiature Camera
Chiyoda Kogaku Seiko, maker of the Konan 16 Automat, is now known as the Minolta Camera Company of Osaka, Japan. The Chiyoda Kogaku name was used from 1937 until 1962. The Konan 16 Automat, ca 1950, was the first subminiature camera marketed by this firm.
The image above shows the Konan 16 ready to make an exposure. The round black circle in the left window is the shutter blade. The blue dot in the center of the blade indicates the shutter is armed, and not yet released.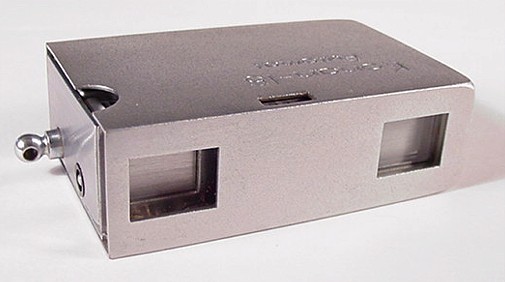 Konan 16 Automat in Closed Position
The post protruding from the side of the camera is made to accept a carrying strap. The strap, or this post, is pulled to open the camera, advance the film and arm the shutter. The circle in front of the post is the flash terminal.
For a subminiature, this is a very heavy camera, weighing approximately 10 ounces on my postage scale. Its heft is very noticeable. In contrast to a Minox camera weighing less than 3 ounces the Konan feels like a brick. The basic style and design of the Konan led to a popular series of cameras, the Minolta 16 introduced in 1956 and available with variations until 1974. Minolta 16 cameras by the way are much lighter than their predecessor.
The Konan 16 Automat shoots 16 mm film, producing 24 10 x 14 mm exposures. Shutter speeds range from 1/25 to 1/200 second, plus bulb and time. The lens is a Rokkor (a name still used on Minolta optics) 25 mm f 3.5, adjustable to f11. Focus is not adjustable. Film is advanced and the shutter is cocked by a push-pull motion of the camera housing, ala Minox. The camera is synchronized for flash.
As a collectable subminiature, the Konan 16 Automat rates as much less common than the later Minolta 16 cameras.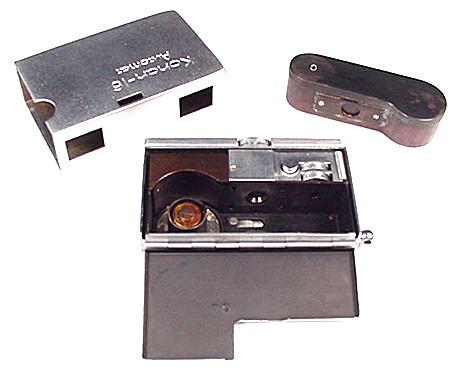 Camera Opened for Film Loading
For film loading, the camera is removed from its outer casing and a hinged cover door is opened. The object in the upper right is a film cartridge. The cartridge is made of brass and is somewhat heavy. The cartridge houses the film and a pressure plate. A hinged flap shields light from the film for daylight loading. A brass lever on the bottom of the cartridge is automatically pressed, causing the light-trap door to open, when the camera is reassembled. This is an elaborate and well constructed cartridge.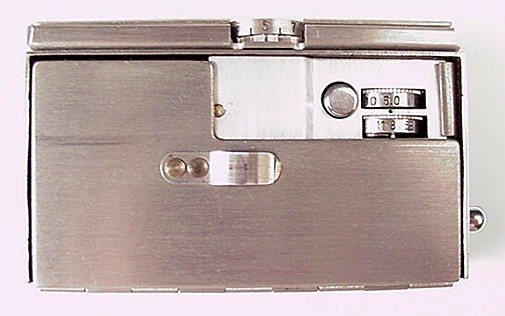 Camera Body Removed from Casing
This image reveals the shutter speed and aperture setting dials. The shutter release button is to the left of the shutter dial. The dial at the top of the image is the frame counter.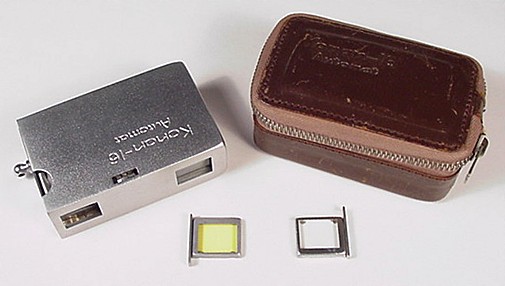 Camera, Case and Filters
The leather carrying case fits the camera and two filters. The filters slide into a slot located in front of the lens but behind the outer casing. The slot is accessible without the need to remove the camera from the casing.
| | |
| --- | --- |
| | A navigation frame with links to other pages on this site should appear on the left of this page. If it is not there, click HOME to make it appear. |
This page was updated June 24, 2001