Scott's Photographica Collection
Finetta-Werk
Finetta Model IV D Camera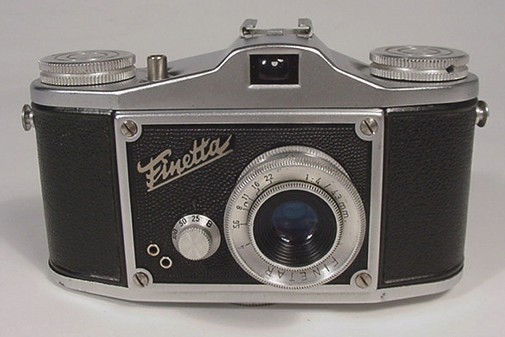 Finetta Model IV D Camera
Finetta-Werk, of Goslar, Germany manufactured about a dozen different Finetta models between 1949 and 1957. Most models allowed interchangeable lenses, as does this example. With the exception of the top-of-the-line Finetta model 99, all other models were fairly simple cameras.
An interesting point about this camera that is not obvious at first sight, is the body is made entirely of bakelite. Only the top and bottom covers and front trim are made of chrome plated metal. The bakelite was molded with a stippled pattern to give the impression the camera has a leather covering. I think this was a successful feature as the camera is comfortable to hold.
The model IV D is a compact full-frame 35mm viewfinder camera. Although the lens has adjustable focus down to 2.5 feet, there is no rangefinder. The screw-thread interchangeable lens is a Finetar 43mm f/4.0, stopping down to f/22. The shutter has settings for bulb, 1/25, 1/50 and 1/100 second and is synchronized for flash. The shutter is a two blade design built into the camera body. The camera has knob wind, with a manual reset frame counter and double exposure prevention.
| | |
| --- | --- |
| | Page created July 15, 2001; updated December 20, 2020 |