Scott's Photographica Collection
Century Camera Company
Model 43 5x7 Field Camera

This Century model 43 was manufactured in the early 1900s by Century Camera Company of Rochester, NY. The camera took photographs on glass plates measuring 5 by 7 inches.
Beautifully constructed of wood, leather, brass and glass, this style of camera is often termed self-casing. This is because the entire mechanism folds into a protective and compact box that is easy to carry. Other terms used to describe cameras of this design are field, view and folding.. Folding makes sense - because the camera folds up. The term field is used to describe a large format camera made to be easily carried outdoors for use in the field. View refers to a camera where the lens and/or back can be adjusted from parallel dead-center allowing the photographer to vary the scene's perspective.
Composition and focusing was usually performed by viewing the subject on the ground glass at the back of the camera. However it was also possible to frame the scene in the waist-level optical viewfinder on the camera bed (see detail, below). In that case, focusing could be set by aligning a pointer to a focusing scale mounted on the front bed. The distance would need to be measured or guessed.
The camera, opened and ready to shoot measures 8 1/2 by 8 1/2 x 12 inches. It is also quite heavy. I doubt a photographer hand held the camera while sighting in the waist-level viewfinder. Regardless of how the subject was composed this camera was most likely used only when mounted on a tripod.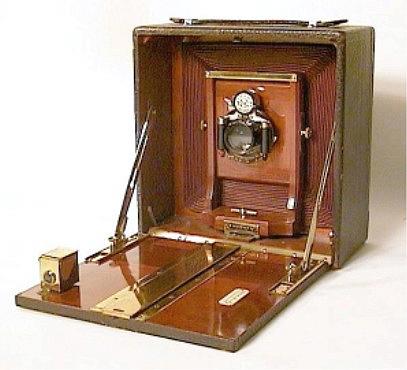 View of opened camera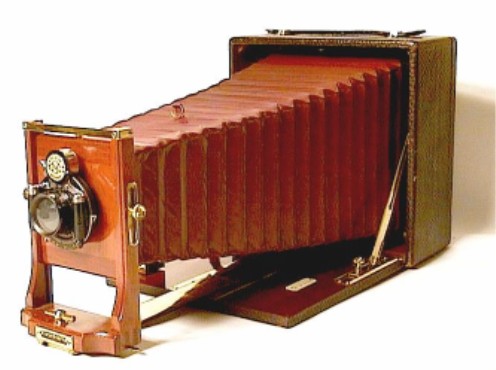 Camera with bellows fully extended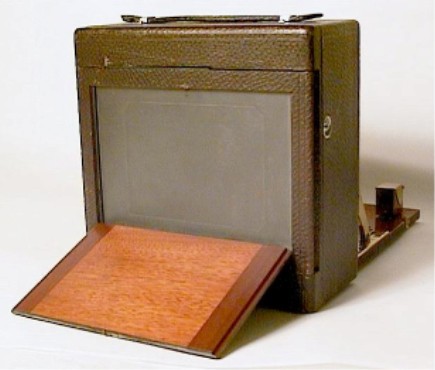 Opened camera back showing ground glass focusing screen
Front standard detail showing maker's nameplate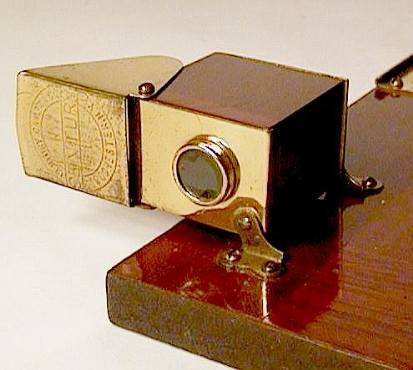 Waist-level viewfinder detail
| | |
| --- | --- |
| | A navigation frame with links to other pages on this site should appear on the left of this page. If it is not there, click HOME to make it appear. |
This page was updated June 13, 2001
Photographs taken by Bryan Todd