Scott's Photographica Collection
Box of Chicago Ferrotype Company Photo Buttons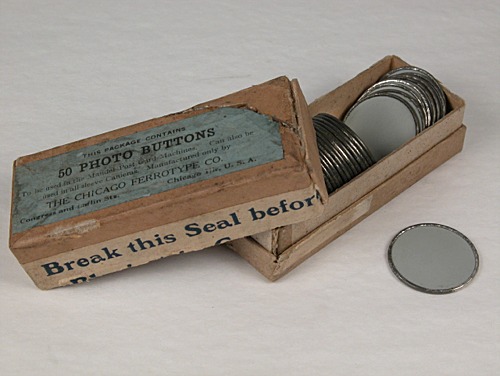 Box of Photo Buttons
Button-style photographs were usually created by early 20th century street and itinerant photographers. The photo button consisted of either a tintype or photosensitive paper mounted in a round metal disc. After exposure and processing the button was often inserted into a gilt pin-back mounting.
The buttons in this box are one inch in diameter, which was a common size. Because the button was so small, it was ideal for head-and-shoulders portraits, the bread and butter of the street photographer. The button portrait was a form of photographic jewelry. As jewelry, its value was strictly sentimental. Rarely would a street photograph mounting have precious metal content.
This partially used box of photo buttons was manufactured by the Chicago Ferrotype Company. Chicago Ferrotype Company introduced its first one-inch photo button camera ca. 1910. The company was a successful maker of street cameras for decades.
Both tintype and paper photo buttons were direct-positive photographs. The advantage of direct-positive media was that the added step of making a print from a negative could be eliminated. This allowed manufacturers to create cameras with built-in processing capability. A traditional darkroom was not required. Direct-positive street photographs were processed, often within the camera itself, and handed to the waiting customer in minutes.
The box label states that the buttons can be used in Mandel Post Card Machines and in all sleeve cameras. The company's address is shown as: Congress and Laflin Sts., Chicago, Illinois, U.S.A.
Related Information
| | |
| --- | --- |
| | Page created April 8, 2003; updated December 20, 2020 |