Scott's Photographica Collection
Vintage Watch-the-Birdie Accessory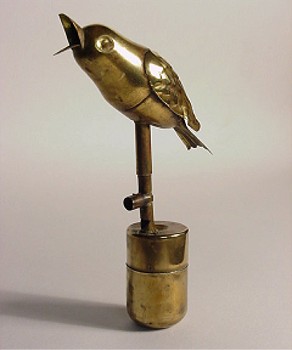 Watch the Birdie
Watch-the-birdies were used by photographers to relax and amuse children during a portrait session. This example made of sheet brass probably dates to the 1920s.
The birdie would typically be held by an assistant or parent. A rubber hose and squeeze bulb were connected to the short length of open brass tubing. The brass base separates into two halves so the bottom of the base can be filled with water. Squeezing the rubber bulb causes the bird to make a whistling and warbling sound.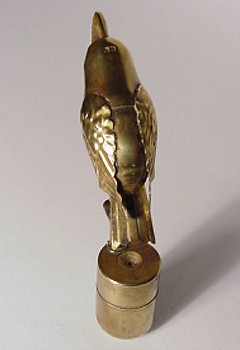 Watch the Birdie
This charming little bird is 3 inches in length. Overall height is 4 1/2 inches.
Follow this link to view the portrait of an animated infant who appears to be reaching out for some sort of amusing toy — possibly a watch-the-birdie.
| | |
| --- | --- |
| | Page created March 19, 2002; updated December 20, 2020 |